All year we have been pushing the idea of "If you want to have a good time, you gotta have a good watch." What follows is our last GOOD TIME PIECE of the year. CHECK IT OUT!!!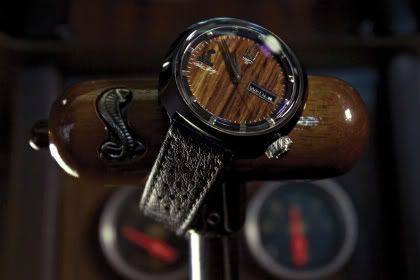 Despite being relatively new to the watchmaking scene, California-based MARCH LA.B unveil their exclusive collaboration with Carroll Shelby. The "Shelby Limited Edition" timepiece was crafted to celebrate one of the rarest prototypes in American muscle car history, the Shelby EXP 500, also referred to as the Green Hornet. As an ode to the heritage aesthetics of the classic automobile, the watch is encased in a black chassis set against a wood dial replicating the Shelby's original dashboard. This time-honored collaboration is available now through Los Angeles retailer Union.
As we look to bring in the new year and reflect on the passing I felt these videos kind of summed up how I'm feeling. CHECK IT OUT!!
Concluding a turbulent year, Lupe Fiasco drops the new music video for his latest single "The Show Goes On". According to the title, the clip follows the Chicago-rapper backstage to the stage, highlighting his ambivalent relationship with the show business. Off Lasers which arrives March 8th.
Well we at Able Abe Clothing want to wish you a HAPPY NEW YEAR we have a lot in store for you in 2011 so definitely follow us to be the first to know about limited edition products, events, and all the interesting happenings going on with us. So keep it locked as we DO OUR THING.
LETS GET IT!!!