Well here we are again, it was told to me "If you want to have a good time you need a good watch." And whether or not you believe that here is a watch with good time for a good cause CHECK IT OUT!!!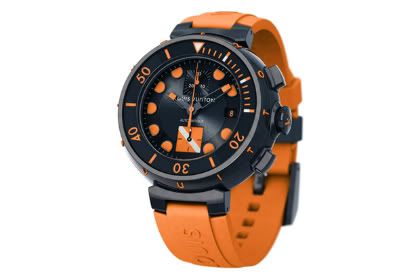 Photobucket">
New from iconic French luxury house Louis Vuitton comes a unique Tambour Diver Chronograph for a good cause. This watch is certainly a statement piece, to say the least. Not only will the sale of the timepiece go to benefit charities of muscular dystrophy, but it was also designed in collaboration with a young boy afflicted with Duchenne muscular dystrophy named Paul Pettavino. The striking chronograph is made from black gold (white gold with a PVD treatment) and features dial details, rotative bezel markings and a thick rubber bracelet all in bright orange – Paul's favorite color. The transparent back enables anyone to see the sophisticated LJP 8181 movement and the watch, a true diver, is fully water resistant. Packaged in a mini Damier Graphite canvas trunk – Louis Vuitton's contribution to the Only Watch 2011 cause is certainly an enviable one, successfully merging commerce with charity.
Source: TimeZone
As another Thursday comes along remember if you are down at the Chico Farmers Market. And when you are downtown check out KONJO located at 112 west 2nd st. Chico, Ca. We just added a new stock. ENJOY.
Photobucket">
And finally, here is a video by a group called METRONOMY with a song called THE BAY. Check out the cool laid back vibe and the luxurious visuals... BOOM!
GO!