Here is the initial photo series for the 2011 Able Abe DENIM PROJECT:
Nothing says summer like cut off shorts and denim skirts. No matter how you wear them, be it with high heels or flip flops, dressed up or dressed for comfort, every girl during the summer months needs her "go-to pair" to beat the heat and still look fashionable.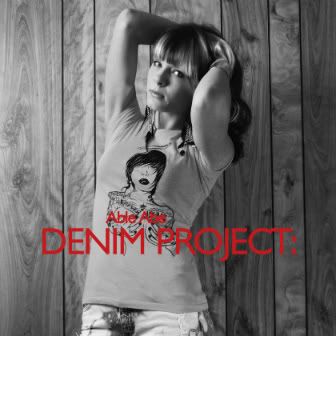 Able Abe Clothing is the progressive brand that has heard you ladies and is introducing the DENIM PROJECT: a limited edition, hand crafted, one of a kind collaboration with name brand denim. These pieces are put through an additional list of processes to create a unique vintage and worn in to perfection look that will get you noticed, making you the trendsetter you already are.
Being that these sets are sold on a limited edition basis with limited sizes and washes each set will be numbered to show the quantity in each set as well as its position. There are three batches scheduled to go off, so it is imperative that you get your pair now before the word gets out on this exclusive series.
Also CHECK OUT ableabe.com for more creative one of a kind clothing.
LETS GET IT!!!