Able Abe Clothing drops the first of many collaborations with the classic shoe GIANT Pro Keds.
Able Abe Clothing X PRO KEDS Royal Lo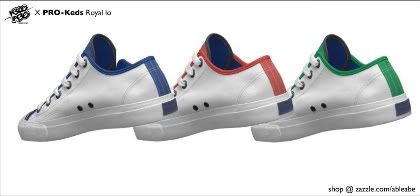 INSTANT CLASSIC
The "INSTANT CLASSIC" comes in the RGB Color model (Red, Green, Blue) this colorway is complimented by a crisp, clean white. Featuring the classic ABLE ABE branding on the outside panel. Along the white mid sole is the crimson and grey an everlasting symbol of the iconic brand PRO KEDS. This collaboration is of high quality craftsmanship, and a definite sign of more things to come from both of these dynamic brands. With a limited number being made you should get yours now at the exclusive Able Abe Clothing zazzle.com/ableabe
GO!!!